---
»
---
»
---
»
---
»
---
»
---
»
---
»
---
»
---
»
---
»
---
»
---
»
---
»
---
»
---
Bekendere van Erp (en)
Thomas van Erp (van Erpe/ Thomas Erpenius)
Mogelijk familie. Verwant aan de tak van Erp van Rott. Zie Genealogie van de familie van Erp. Uittreksel van het "Annuaire de la Noblesse Belge"": 1883. Vertaald door abbe Ch Beekmeyer (zijn moeder was een van Erp), Buire (Fr) 1975.
Nederlands Orientalist, geboren te Gorcum op 11 september 1584, overleden te Leiden op 13 november 1624. Geniet een wereldreputatie door zijn werken over Oosterse talen (zie Jean Meursius: Athenea Batavorum, Valere, Andre en Mobert). Praalgraf in de Pierskerk te Leiden.
Zoon van Jan van Erp ( 's- Hertogenbosch) en van Beatrix de Bie
1608: graad te Leiden van Magister Artium Liberalium. Hij bezocht daarna de universiteiten van Cambridge, Oxford, Parijs, Saumur en Heidelberg. Hij maakte voornamelijk studie van 't Arabisch. In Venetie doceerde hij de beginselen van 't Turks, Ethiopisch en het Koptisch. Daarna werd hij benoemd tot buitengewoon hoogleraar te Leiden.
In 1615 had hij een eigen drukkerij voor Hebreeuws, Arabisch, Syrisch en Ethiopisch. In 1619 doceerde hij ook Hebreeuws te Leiden.
Hij publiceerde ondermeer de volgende werken:
- Gramaire Arabe, Leiden,1613
- Oratie de Lingua Arabica, 1613
- Annotationes in Lexion Arabicum Fr Raphelengei, 1613
- Proverborum Arabicorum Centuriae, 1614
- Locmani Sapientis Fabulae, 1615
Hij bereidde ook een Arabisch-Latijnse uitgave voor van " Historia Saracenica" d Almacin, gepubliceerd in Leiden (posthuum) 1625.
Literatuur: E. Schlijper: Een posthuum boek van Erpe. Het boek XIII
W.H.G. Juynbolll 17e eeuwse beoefenaars van het Arabisch in Nederland. Dissertatie (Utrecht 1932)
D.W. Damen (?) The provenance of the oriental types of E. Het boek XXV. 1949/1950
Christina van Erp 1591-1624, de eerste vrouw van P.C. Hooft, 1610. In Hoofts sonnetten vereeuwigd; ook in haar grafschrift:
Cristina, de Drostin van Muiden,
eert dit graf.
Nooit vrouw meer gunst verdiende,
en min zich diende eraf.
(Familierelatie moet nog vastgesteld worden)
Bloedverwante van Thomas van Erp (Van Erpe/Erpenius). Dochter van van Arnold van Erp, geboren te Antwerpen. Calviniste . Huwde Pieter Corneliszoon Hooft, ridder in de Orde van de Heilige Geest. Drost van Muyden, geboren in 1581, overleden in 1647. Een der grootste Nederlandse dichters. Zoon van Cornelis Hooft, burgemeester van Amsterdam
Dirk van Erp , Koperslager ( Leeuwarden 04/01/1862- USA 00/00/1933) (zie verder Groningse Tak)
Dirk van Erp

---
Dirk van Erp was a master craftsman and coppersmith who established a studio in San Francisco, California to produce a very high quality, hand worked collection of lamps and other furnishings in the arts and crafts style. Like most arts and crafts pioneers, production was relatively limited. At his peak, Van Erp employed no more than 13 coppersmiths who manufactured his designs, and some reports cite as few as 5 not including his son and his daughter Agatha who worked at the company.
Two of Van Erp's metalsmiths, August Tiesselinck and Harry Dixon, eventually established their own shops to produce arts and crafts works similar to Van Erp. Unlike Tiffany Studios lamps that were produced according to blueprints and forms, Dirk van Erp production was completely handmade and resulted in subtle variations in size, style, and hammering of the individual work.
Dirk van Erp was a native of Leeuwarden in the Netherlands where he learned his craft working in the family hardware business. Van Erp emigrated to the United States in 1886, traveling to San Francisco where he began working metal forms by hand hammering vases from discarded brass military shell casings while employed at a local shipyard. He opened his first retail store in Oakland, California in 1908, and he established Dirk van Erp Studios in San Francisco in 1910, producing primarily lamps with hammered copper bases and mica shades.
Van Erp used only the very highest quality materials and adhered to the principles of hand working with simple tools and limited production of items. These principles distinguished Van Erp work from similar styles produced by Roycroft which evolved into more of a mass market operation. In addition to lamps, Van Erp manufactured an assortment of hand hammered trays, bowls, candlesticks, bookends, desk accessories, and vases according to the same principles of quality and craftsmanship. Most work was in copper although brass, iron, and other metals were also used. The Van Erp mark of a windmill (reminding him of his roots in Holland) over the name Dirk van Erp appears on most all Dirk van Erp Company production.
All period Dirk van Erp production is highly collected today, with lamps bringing the highest values and usually considered the pinnacle of arts and crafts design. Most of his lamps were produced on a commission basis and represented approximately 25% - 35% of total output. Dirk van Erp lamps were expensive even at the time of their production, retailing for approximately $25 to $150. Van Erp occasionally collaborated with other top arts and crafts manufacturers such as Grueby, but for the most part Dirk van Erp Studios continued to produce finely styled and hand crafted metalwork with only the handful of skilled craftsmen he employed.
Copy:
Mica Lamp Co. Menu
Dr Theo (Theodoor) van Erp (Ambon 26/031874- Laren N-H 07/05/1958) Groningse Tak
Buddhist marvel of stone standing in the garden of Java, Indonesia
Nederlandsch archeoloog. Genie-officier, luitenant kolonel van het KNIL en de Nederlandsche Landmacht. Lid van de Borobudur Commissie. Eerste restaurateur van de Borobudur (Java). 1907-1911. Vele publicaties van zijn hand over Zuid-Oost Aziatische kunst. Doctor Hon. Causa Universiteit van Amsterdam,1951. Zie verder: Groningsche tak familie van Erp.
http://nl.wikipedia.org/wiki/Dr_Th._van_Erp
Yvo Theodorus van Erp , 19/06/1824- 30/01/1911 , Groningse Tak, zilversmid, Leeuwarden
Veel werk van hem in het Fries Museum te Leeuwarden
silver tea strainer - Holland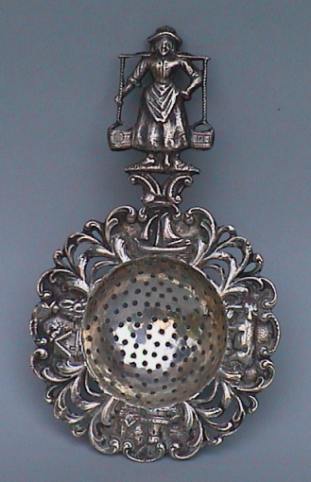 this figurative silver tea strainer was made by silversmith Yvo Theodorus van Erp who worked in Leewarden (Friesland - Holland) from 1857 to 1908. It is marked VE and "hammer and chiesel" corresponding to the period 1906/1908.
The tea strainer is 4 3/4 in. long (cm. 12) and was bought from an Italian dealer at an Antique Fair.
This item is not for sale, but most of my pieces were bought through the Internet. On the right bar of this page there are some links to websites of silver and antique dealers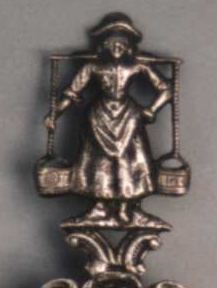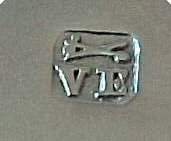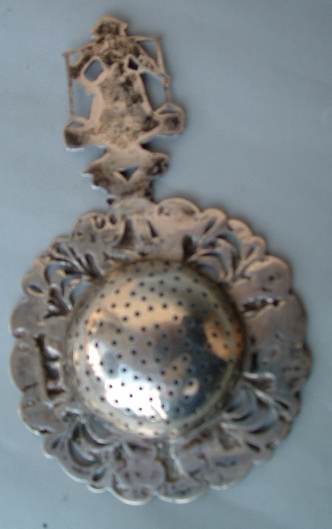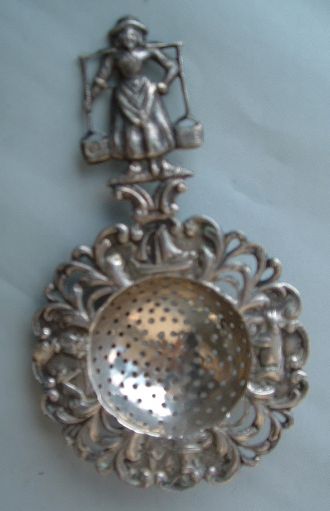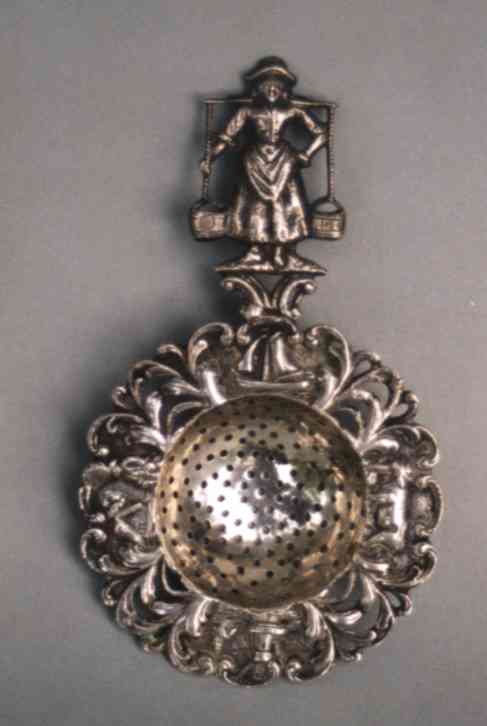 www.silvercollection.it ©

Antonius van Erp (1797-1861)
http://www.thuisinbrabant.nl/biografieen.asp?ccidentifier=466&ccSortorder=title
gazette switch board